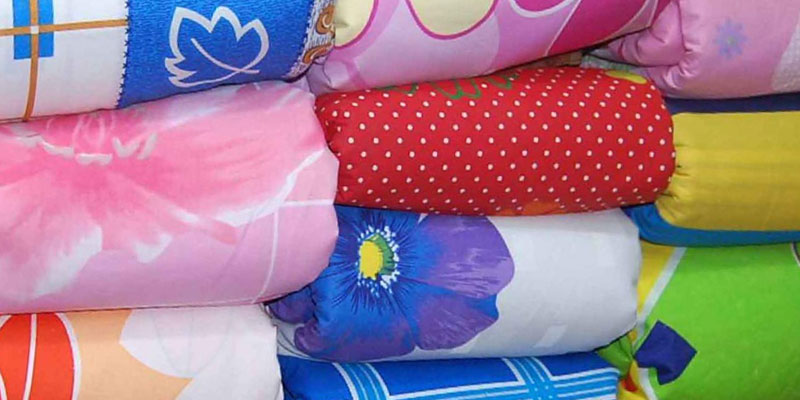 Bed Sheets Fabric Types
Sadee
Quality Bed Sheet Fabric can affect every part of your body and daily routine as well because it comes with a direct contact with body so bed sheets fabric should be comfortable and according to the climate. Bed Sheets are very important aspect of a home decoration also gives home an appealing and impressive look. There are several enlightening facts about a bed sheet fabric everyone should need to know before buying the right bed sheet for you. As we spend most of our time on beds and research says when you don't sleep well at night it throws everything off, so choosing the quality fabric which guarantee durability also enhance the comfort level at nighttime. This guide will help you understand choosing the right fabric for specific season.

There are many different fabric are famous for making quality bed sheets.
Cotton Bed Sheets
Satin Bed Sheets
Silk Bed Sheets
Velvet Bed Sheets
Flannel Bed Sheets
Cotton Bed Sheets
Cotton is a most common fabric for bed sheets and ideal in summer. There are various types of
Cotton Bed Sheets
currently available in the market but Egyptian cotton considered the best one for making bed sheets. Cotton is a most light weight fabric around for making bed sheets which absorb heat and air pass through it, so it remains cool and comfortable in extreme hot climate, which is an amazing choice for summer season.
Satin Bed Sheets
Satin fabric usually use for making fancy bed sheet. Satin considered a favorite fabric for bridal and wedding bed sheet. Satin is a silky and smooth fabric and breathe very light and cool and suitable for winter and summer for both season. An only downside of satin bed sheets is its slippery and scratchy surface, which is really annoying sometimes. An ultimate relief for satin bed sheet lovers is some satin bed sheets comes with inner layer of fabric to make a stronger grip on mattress so it don't slip from bed mattress.
Silk Bed Sheets
Like satin fabric silk fabric is also silky and smooth fabric but silk fabric is more luxury and pricey than the satin fabric. Satin is a man-made weaved fabric and a mixer of silk, nylon and polyester while Silk comes with the cocoon of silk worms and known as the finest fabric for making luxury bed sheets.
Velvet Bed Sheet
Velvet is a woven tufted fabric and can be made from either natural or synthetic fibers. Velvet bed sheets are super smooth and comfortable and tend to give warm and cozy feeling in winters.
Flannel Bed Sheets
Flannel is a cotton combed fabric to fluff up the fibers to give it a cozy and warm feeling. Flannel is a heaviest weight fabric among all the range. Flannel bed sheets perfect for winters as the fleece like features provide complete relaxation and comfort in cold night.
Here I have shared my personal overview but still there are of course personal preferences when
buying bed sheets
as we spend most of our lifetime on bed so be sure you're comfortable.
Featured Blogs
Advantages of Online Shopping
A lot of things have changed since the last two decades. Only a few years back, a simple teenager was not allowed to answer the phone, call someone, switch on the TV, or go out to ...
Sana
Popular Winter Fabrics & Colors
It is said that first impression is the last. Among other facts the cloths are first source of impression to think about personality of the new comer. Cloths not only save us from ...
Khadija
Best Winter Clothing Shopping Tips
Picking clothes for winter season is perhaps the most daunting job especially when you don't know what is in stored for you in the upcoming season, whether it's going to be ...
Sana
Ladies Dresses Buying Guide
Many things to consider when buying a perfect dress for yourself. Shopping for dresses is no doubt a fun filled activity for ladies but equally frustrating and time consuming. Sinc...
Sadee
Innovative Kitchen Tools & Gadgets
Kitchen tools are a great investment they make the kitchen tasks easier and less time consuming. With the right utensils and kitchen equipment even the chore like cooking can becom...
Shahneela